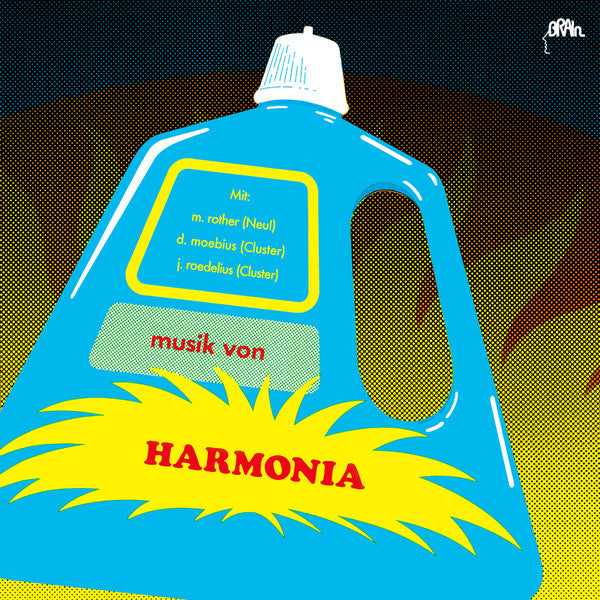 HARMONIA : MUSIK VON HARMONIA [Gronland]
Catalogue : Gronland / LPGRON149
Format : LP, Gatefold, Reissue
Condition : New
Country : Germany
Released : 2015
Genre :  Krautrock

Few bands match the pastoral beauty and majesty of Harmonia, the short-lived German band that existed from 1973 to 1976. Harmonia was a 'Krautrock' supergroup, bringing together Dieter Moebius and Hans-Joachim Roedelius of Cluster, and Michael Rother of NEU!. Though Harmonia was not very well known during their lifetime in their native Germany, their music soon captured the attention of Brian Eno, David Bowie, and other highprofile admirers overseas. Eno was so captivated by Harmonia — he once famously called them the "world's most important rock group" —that he briefly joined the band, recording music with them in 1976.
Harmonia released their debut album, 'Musik von Harmonia', in 1974. The striking Pop Art cover of a detergent bottle, designed by Moebius, gave the band an instantly iconic and modern look. Each track sounded completely different, from the rhythmic "Watussi" to the shimmering ambience of "Sehr Kosmisch."  Harmonia recorded and mixed the album themselves, in Forst. "We had three [tape] machines, Revox type, and a very primitive mixer," says Rother.