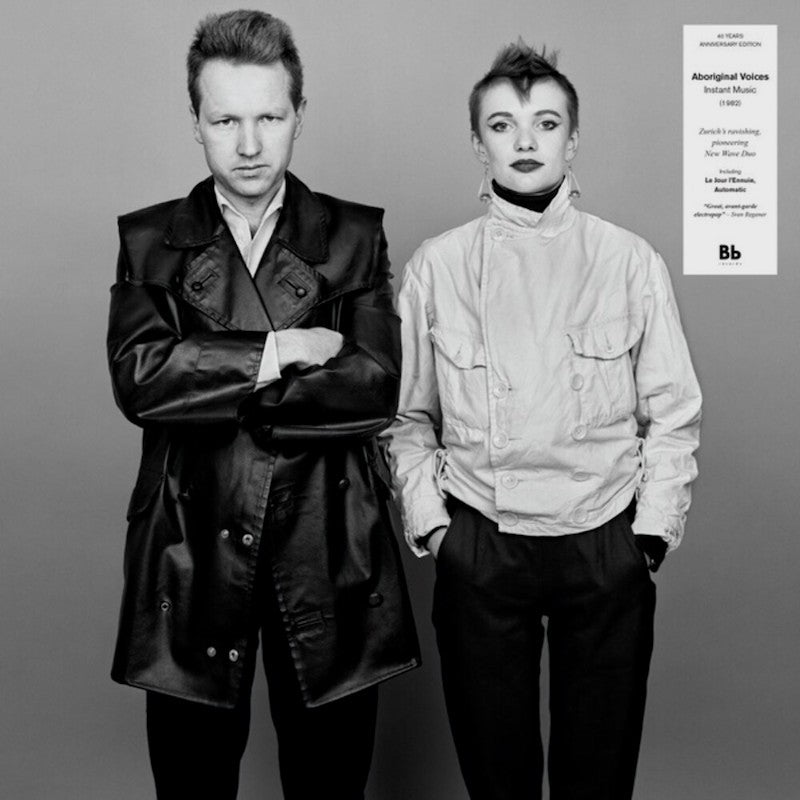 INSTANT MUSIC : ABORIGINAL VOICES [Billbrook]
Catalogue : Bullbrook Records / BBR002
Format : LP, Vinyl, Album, Reissue
Condition : New
Country : Germany
Released : 2022
Genre : Post Punk, New Wave

New Wave /Cold Wave Reissue Gem from Zurich 1982 by the duo of Micheline (Pfister) and Wüste (Heinrich Zwahlen), previously only released in parts on Cassete and 12" EP
In Zürich's underground, the duo Aboriginal Voices caused a stir at that time. A couple, good-looking, styled, looking cool into the cold neon light, with a danceable beat and sequenced electro sounds, to which Micheline gave a very unique touch when she sang in French and English. Micheline had a classical piano education, had left home early, worked as a lighting technician in a strip joint and at Booster, the hottest boutique in town (one of the relicts that still exists). Voilà: a musician who was as stylish as she was tough. She was already playing with Wüste in the band "Doobie Doos", a band where everyone played an instrument they didn't master. In 1980 the Aboriginal Voices were formed, initially with vocalist Magda Vogel (of later UnknownmiX fame), who was trained as a classical singer.
Frustrated by organizational friction and constant hassles with band lineups, Wüste and Misch decided to do everything as a twosome: self-mixed, self-styled, self-produced. With the top-of-the-line Linn drum machine clocking the beat, Wüste's guitar and Micheline on the Yamaha synthesizer created a unique sound of danceable electronic music. Whereby the Aboriginal Voices acted as a kind of proto-influencer, receiving the latest equipment to try out, especially since they made it a point not to work with tapes, but to design everything for live shows. They had an interface built for the legendary Roland MC-4B, who sequenced the modular Roland System 100M but where one output controlled a light show synchronized with the sound. A pioneering act that fit well into the DIY spirit of punk, with its self-distributed tapes and fuck-you attitude towards the cretins of the music industry. Consequently only two cassettes and an EP were released. There was something futuristic about the sound, the vestiary style and the electronics, while the attitude remained rebellious. Of course something so deeped in the Zeitgeist wasn't meant to last. Wüste moved to New York, Micheline stayed in Zurich, both still active in the music scene to this day.