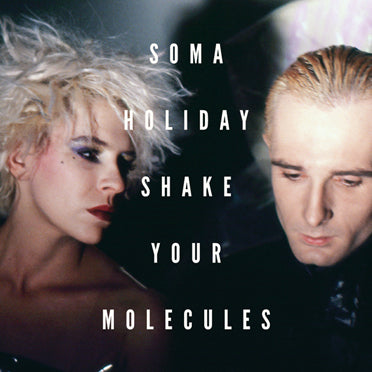 SOMA HOLIDAY : SHAKE YOUR MOLECULES [ Minimal Wave ]
Catalogue : Minimal Wave / MW052
Format : LP, Limited Edition, Colored
Condition : New
Country : US
Released : 2018
Genre : Minimal, New Wave, Post Punk

Minimal Wave presents a remastered reissue of Soma Holiday's cult classic, Shake Your Molecules. Soma Holiday was a Franco-American duo consisting of Jean-Marc Vallod (FR) and Jane Honicker (US), based in Williamsburg, Brooklyn back in the early 1980s. They recorded "Shake Your Molecules" along with "Too Many People" and "Art Dimension" in 1984, at Unique Studios in Manhattan. The studio was known for being the first NYC studio with MIDI capabilities. With the help of Eric Dufaure, they had their 12" released on Cachalot Records in France, and later a further pressing was made by Les Disques Du Soleil Et De L'Acier. Whilst in NYC, they worked with Jay Burnett, a protégé of Arthur Baker, who was active in the synth-pop, hip hop and electro scenes. He engineered their 24 track recording sessions at Unique and later went on to collaborate with Adam 'MCA' Yauch of the Beastie Boys on a 12" for Def Jam as well as doing a mix of the cult classic I.O.U. by Freeez. That quintessential NYC electro / hop hop sound infused with the French New Wave sensibility is what ended up making "Shake Your Molecules" such a unique dance floor hit. Proudly, we present four beautifully remastered tracks by Soma Holiday, the original "Shake Your Molecules" mix, the unreleased dub version and two other unreleased outtakes of "Too Many People" and "Art Dimension", all from their 1984 studio recordings at Unique Recording Studios. Soma Holiday's Shake Your Molecules EP will be pressed on 180 gram oxblood vinyl and limited to 999 copies. Full color gloss sleeve with two sided insert featuring photograph of Soma Holiday in front of their home in Brooklyn and full liner notes with text by Jean-Marc Vallod.